Governor Northam Announces New UK Distribution Partnership for Virginia Craft Brewery
Port City makes new international sales with assistance from Virginia agricultural trade office
LONDON—During a trade and marketing mission to Europe, Governor Ralph Northam today announced a new UK distribution partnership for Port City Brewing Company, resulting in new international sales for the Alexandria brewery. The partnership with American Craft Beer Company, a UK-based representative of craft breweries from the United States, will bring Port City beer to the United Kingdom for the first time. Governor Northam attended an event officially launching their products into the market.
Port City was first introduced to American Craft Beer Company during a tour of Virginia breweries for European beer buyers in September 2016 organized by the Virginia Department of Agriculture and Consumer Services (VDACS). The brewery participated in the "Virginia Is for Craft Beer Lovers"-themed booth, also hosted by VDACS, at the annual Craft Beer Rising trade show and festival in London in 2017 and 2018 before selecting American Craft Beer Company as a UK partner. The VDACS European representative office identified American Craft Beer Company as a potential UK partner for Virginia breweries and made the initial introduction to VDACS staff in early 2016.
"I am so pleased to support this exciting new sales opportunity for Port City, one of Virginia's largest and most-awarded breweries, here in the world's second largest export market for U.S. craft beer," Governor Northam said. "It is wonderful to see this innovative Virginia company take its local and regional success to a global scale. Port City is already a significant employer and economic driver in Northern Virginia. This partnership will set them up to grow even further in a quickly developing export market."
"Port City's new partnership with American Craft Beer Company is exactly the type of result we aim to achieve with our international marketing resources at VDACS and I am thrilled for what I know will be a bright future for them in the UK," said Secretary of Agriculture and Forestry Bettina Ring. "This is a win not only for the brewery and the Virginia craft beer industry, but also for Virginia agriculture. Port City is a significant buyer of agricultural inputs from Virginia, including the more than 100 tons of wheat they buy annually from Virginia producers, providing a valuable market for this grain. Increased production to support their new export sales will help ensure that these and many other purchases continue into the future."
Port City was founded in 2011 by Karen and Bill Butcher, and Bill is also in London for the UK launch. "Our new partnership with American Craft Beer Company allows us to diversify our sales base and enter a market with a high demand for craft beer from the U.S.," said Bill Butcher, Founder of Port City Brewing Company. "We have taken advantage of every opportunity VDACS has offered to expose us to international buyers and markets and are thankful Virginia has such valuable resources to assist small companies like ours with our export efforts. We are excited for this next chapter in our growth."
Operating since 2012, American Craft Beer Company was founded by Ed Firth and Mark Smith and is based in West Midlands, England. The company represents a small, targeted group of U.S. craft beer brands in the UK market. In reference to their partnership with Port City, Mark Smith said, "We have been pleased to work with VDACS to identify top-quality Virginia craft breweries interested in and capable of exporting to the UK. Ours is a competitive market and we aim to add only the best U.S. craft breweries to our portfolio. Port City impressed us with their exceptional beer, state of the art equipment and facilities, and their professionalism and commitment to sustainable growth. We can't wait to spread the word in the UK about this outstanding brewery."
In 2017, Virginia agriculture and forestry exports totaled $2.64 billion and the UK was the fourth largest market for these products. The Commonwealth exported $128 million in agriculture and forestry products to the UK in 2017. The Brewers Association, the non-profit trade association representing the U.S. craft beer industry, reports that the UK is the second largest export destination for U.S. craft beer, accounting for 10.5 percent of the total export market share.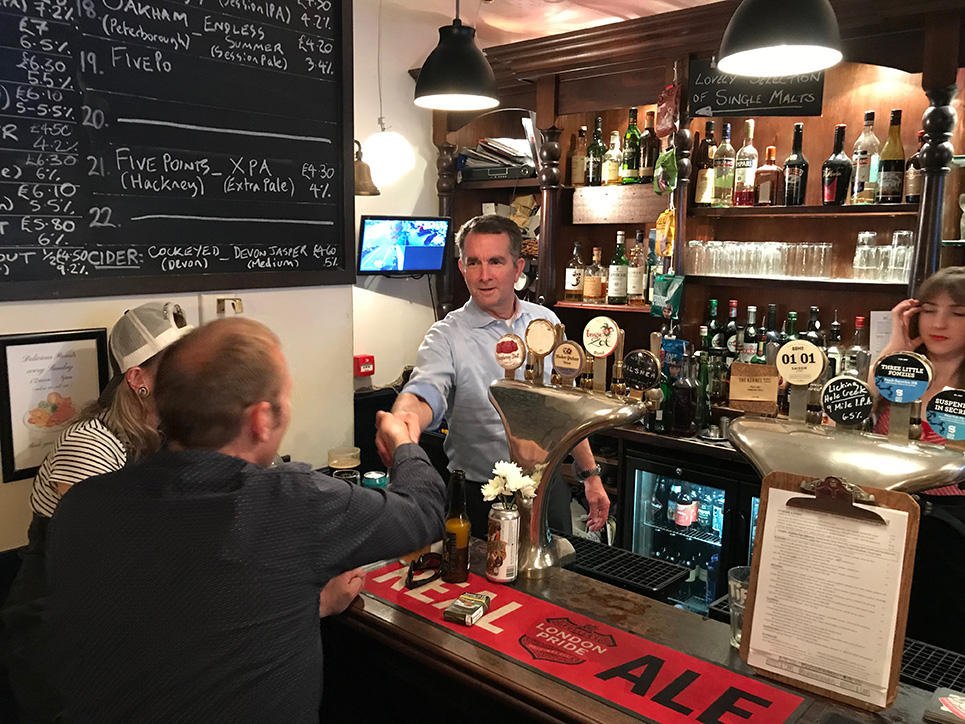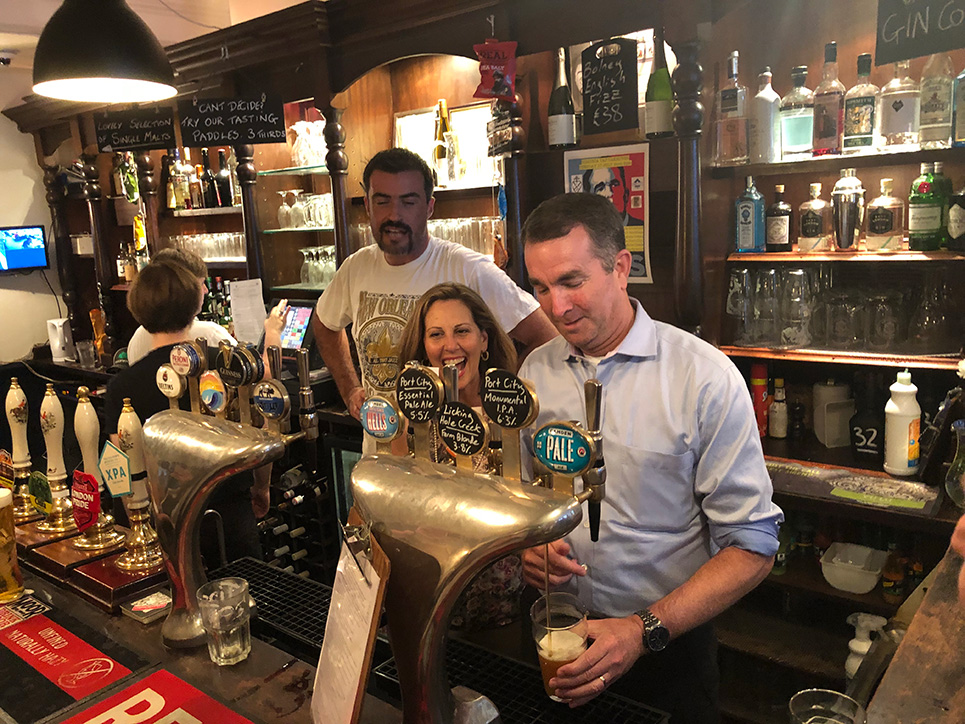 Virginia Governor Ralph Northam and First Lady Pamela Northam pour Port City beer at the "Virginia Tap Takeover" of Old Fountain Pub in London to celebrate the Alexandria brewery's new UK distribution partnership.
# # #