Administration
The Secretary of Administration oversees four state agencies. Those agencies are: The Compensation Board, the Department of General Services, the Department of Human Resource Management, and the Department of Elections. The Compensation Board reviews and approves annual budgets submitted by constitutional officers and reimburses localities for the state's share of authorized salaries and expenses of constitutional officers and their employees. The Department of General Services is an intra-governmental service organization that administers the capital outlay budget; it provides services to state agencies and local government such as procurement and fleet services. The Department of Human Resource Management is the central state agency responsible for administering, developing, and overseeing the state's human resource management system. Areas specifically included are: compensation and policy, equal employment, health benefits, workers' compensation, employee information, and training. The Department of Elections coordinates and supervises the work of local electoral boards, registrars, and election officials to obtain uniformity in practices and proceedings in all elections.
"I worked as a Governor's Fellow for the Secretary of Administration, Nancy Rodrigues. During my time as a Fellow, I conducted research, analyzed data, created and executed communication plans, and assisted project management efforts for several projects. My two favorite projects were the UCI bike race, and the 12 Women Monuments which will appear in front on the Patrick Henry Building. The Fellowship was a great opportunity because I received hands on work experience that impacts all of Virginia. During my time in the Governor's office, I didn't feel like an intern, but more like an employee. In those two months I felt like a big deal. Also, I was able to enjoy many different field trips all over Virginia, and make bonds with the other Governor Fellows as well. It's a remarkable experience that I will cherish for a lifetime."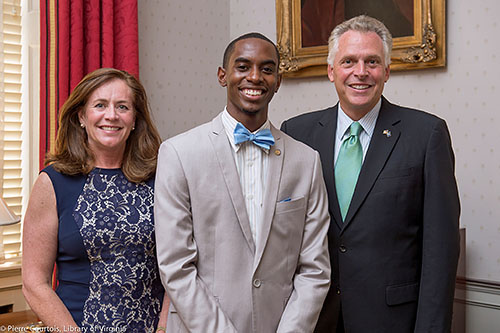 Adolph Brown IV
Class of 2015
"I was a Governor's Fellow under Secretary Rodrigues during the summer of 2014 where I did a lot of administrative and office work, processed constituent inquiries, and helped with the Secretary's speech-writing. Because of my previous experience and my interest in elections, when I got into the Fellows Program, Secretary Rodrigues set me up in the Department of Elections, where my primary assignment was working on voter photo ID outreach. The Fellows Program was a lot of fun and was a great way to get substantive experience working in state government."
Taylor Melton
The Secretariat of Agriculture and Forestry is the voice of two of Virginia's largest industries that have a combined economic impact of $70 billion annually and provide nearly 415,000 jobs in the Commonwealth. The Secretariat of Agriculture and Forestry oversees the Virginia Department of Agriculture and Consumer Services (VDACS), the Virginia Department of Forestry (DOF) and the Virginia Racing Commission (VRC). With strategic focus areas including the craft beverage industries, agricultural biotechnology, and economic development, the Secretariat of Agriculture and Forestry works to further the Governor's goal of becoming the East Coast capital for agricultural and forestry exports. Our Fellows help us perform multiple tasks, including constituent correspondence, research, report and press release drafting and event management.
"As a Governor's Fellow in the Secretariat of Agriculture and Forestry, I was fortunate to be a part of the team that supports two of the largest industries in The Commonwealth. At the start of the fellowship, the secretariat quickly welcomed me as a part of the team. Over the summer, I was assigned several research projects and developed reports on industrial hemp and conservation easements. In the writing intensive summer, I also crafted press releases on topics ranging from business announcements to Farmers Market week in Virginia. As a business major at college, I was able to apply concepts learned in class to helping one of the secretariat's agencies evaluate one of their grant programs that supports agribusinesses. Through this work, I joined the Governor and Secretary at several agribusiness announcements in Southwest and Central Virginia. Overall, the program was the best real-world introduction to state government that I could have in college and confirmed that I would love to work in the public sector after college!"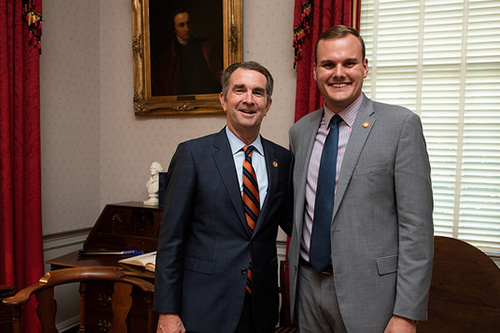 Chandler Vaughan
"I was lucky enough to be placed under Secretary of Agriculture and Forestry Todd Haymore. During my time as a fellow, I worked on a variety of tasks such as drafting a report for the General Assembly, writing press releases, and attending appropriate meetings. I also had the chance to travel for economic development announcements, such as a trip to Tangier Island with the Governor."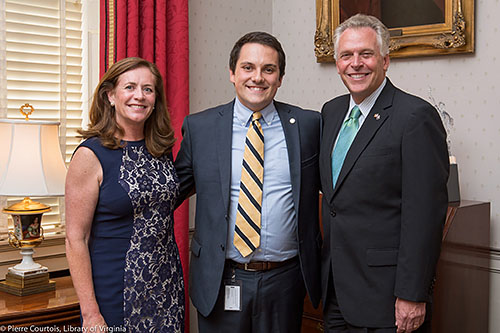 Kyle Rosner
The Secretary of the Commonwealth is part of the Governor's Cabinet. One of the functions of our office is to assist the Governor in his appointments of nearly 4,000 individuals to serve on Virginia's boards and commissions. The Secretary of the Commonwealth's office also serves the Commonwealth through restoration of civil rights, managing extraditions, clemency petitions, service of process, authenticating foreign adoption documents, certifying notary publics, handling lobbyist registration and disclosures and conflict of interest filings. The Secretary acts as the Governor's liaison to Virginia's Indian Tribes, as well as an ex-officio member of the Council on Women.
"I had an opportunity to work in the Secretary of the Commonwealth to help restore the civil rights of Virginia citizens. I worked with a team of three other fellows to help to reach an important milestone in restoration efforts of the McAuliffe administration. (over 9,000).Some of the tasks that I participated in were reviewing court documents and criminal records to determine the eligibility status of ex-offenders. I also produced geographic maps to identify areas in the state that could benefit from more strategic outreach efforts. It was a great experience for me to see the process from the highest level of administration in context with my previous involvement at the grassroots level with civil rights organizations (NAACP). I learned the importance of the role of state government in protecting the basic American ideals of democracy."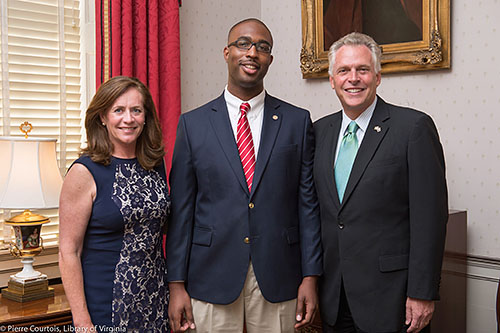 "Last summer, I had the privilege to work as a Governor's Fellow in the Secretary of the Commonwealth's office. While there, I assisted in the petition process for felons so they could regain their civil rights. My duties included confirming the eligibility of applicants and staffing events to get the word out in the community. Though the job could be a lot of work at times, I can say without hesitation that it was one of the most satisfying experiences I've ever had in my life, and I'll be forever grateful to the Fellows program for making it possible."
Alex Apollonio
"This summer I worked in the Secretary of the Commonwealth's office under Secretary Levar Stoney. I had an amazing experience learning about the Restoration of Rights process and how important it is to people all across the Commonwealth. I felt that at the end of the day, we had made a difference in people's lives. Secretary Stoney was great about showing us messages he would get from citizens who say they felt a renewed sense of civic duty, and some even said they felt like a real citizen again. The Fellows program was incredible; it built many relationships and opened many doors and I am very thankful I was able to participate."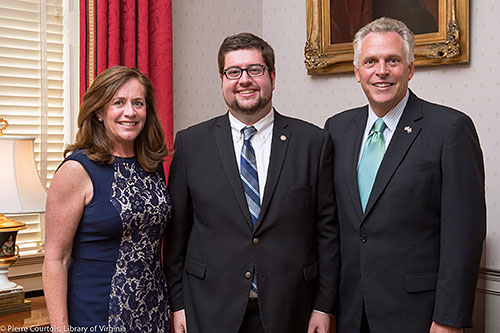 Connor Kish
The Secretary of Commerce and Trade oversees the economic, community and workforce development of the Commonwealth. Each of the 13 Commerce and Trade Agencies actively contributes to Virginia's economic health and high quality of life. The Commonwealth of Virginia was founded as a business venture more than 400 years ago, and is blessed with many assets. The primary job of the Secretariat of Commerce and Trade is to make sure we utilize these assets to help Virginia sustain its position as the preeminent place to live, work and conduct business. Fellows will assist the Secretary's advisors with a variety of projects within their respective fields of expertise.
"As a Fellow for the Secretariat of Commerce and Trade I predominantly assisted secretariat staff in research relating to best business practices and helping industry thrive in the Commonwealth. My work concentrated on the intersection of Governance and workforce development, with a particular emphasis on adapting the state economy to fit the growing need for "middle-skill" occupations."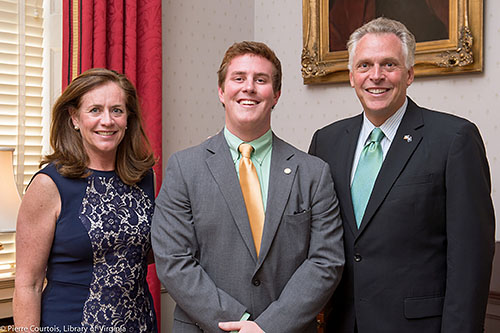 Brian Crowley
Class of 2015
"I covered energy and economic development topics for Advisor Hayes Framme and Secretary Maurice Jones. During the summer I wrote memos for the team on nuclear, wind, solar, and energy efficiency as we pushed for wider adoption of renewable technologies."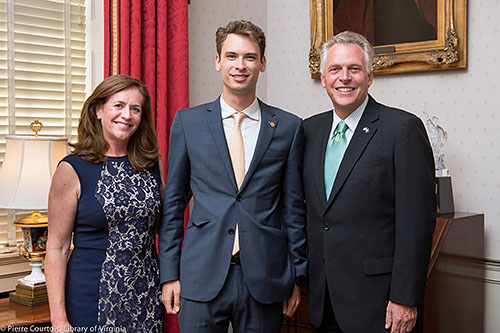 John McAuliff
The Governor's Office of Constituent Services and Community Engagement facilitates communication between constituents and the Governor, processes requests for proclamations and other commemorative documents such as birthday letters, scouts honors, military retirements and more. The office also manages flag and other protocol related requests.
"I am forever grateful to have been a Governor's Fellow in the Office of Constituent Services. I worked alongside some of the most driven, compassionate, and caring people – people who directly serve the Commonwealth of Virginia by speaking with constituents every day. In the office, I answered phone calls, wrote letters and proclamations, and helped sort through constituent letters. I gained exposure to a variety of issues that I wouldn't have elsewhere. I can say with absolute certainty that this summer was the best of my life. The Governor's Fellows program ignited a spark within me and made me realized how much of a passion I have for public service, and I look forward to using the skills and experience I gained in the future."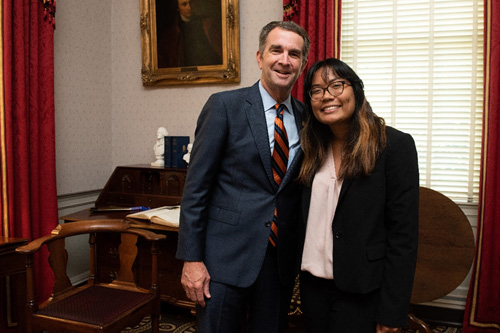 The Governor's Policy Office works closely with stakeholders, constituents, legislators and state and local government agencies to develop policy initiatives in support of the Governor's agenda. The Policy staff is comprised of seven individuals who serve as the Governor's advisors on a variety of different Policy Areas. Each member of the Policy staff is assigned a secretariat in the Governor's administration in which he/she oversees.
"I had the pleasure of working with the Policy Office while serving as a 2015 Governor's Fellow. Within the Policy Office, I assisted the Policy Advisors as well as Counsel on various tasks and projects. I truly did enjoy my time as a Governor's Fellow and it was by far one of the best professional experiences of my life! "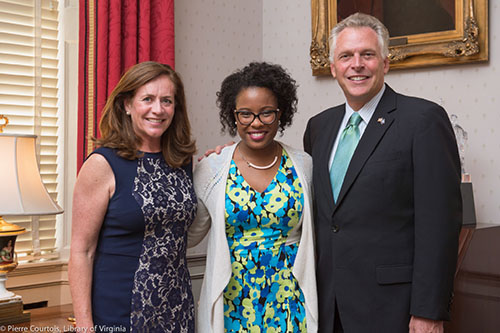 Nia Wilson
"As a fellow in the Policy Office, I had the opportunity to work with various members of the Governor's staff on a diverse set of projects. The experience was extremely rewarding and I learned a lot within the limited time period. A few examples of projects that I was able to complete were researching topics for the Integrity Commission, compiling a spreadsheet to track the Governor's progress on his campaign promises, and analyzing proposed regulations in order to brief the Governor's Counsel on their content. I was also fortunate to be able to attend multiple bill signings and different meetings and functions, all of which furthered my understanding of state government."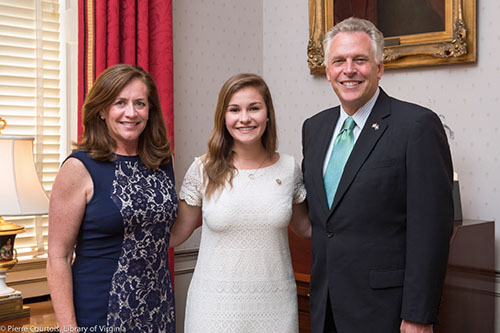 Emma Mulford
Class of 2015
"Working for the Governor's Chief of Staff was a very rewarding experience. It was so exciting to observe and work with someone who works so closely with the Governor and who has such substantial authority in the office as a whole. Because the Chief of Staff works with every secretariat on a regular basis, I had the opportunity to work on projects that dealt with a wide variety of topics. Highlights from my summer include drafting a letter to the President, researching low-cost yet effective education reforms, briefing the Chief of Staff on current events, and sitting in on influential discussions. "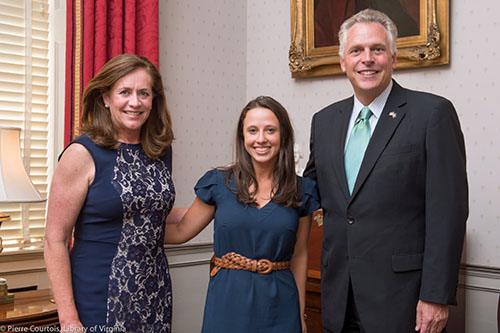 Elena Dimitri
The Secretariat of Education provides guidance to the Virginia Department of Education (VDOE), the Virginia Community College System (VCCS) and The State Council of Higher Education for Virginia (SCHEV), as well as Virginia's 16 public colleges and universities, 23 community colleges and five higher education and research centers. The Secretariat also provides support to seven state-funded arts/cultural institutions. Working with the Governor, the General Assembly and stakeholders, we aim to eradicate the Achievement Gap, promote great teaching and learning, and help strengthen pathways to the 21st Century Workforce. By working with the different members of our team, our Governor's Fellows are presented with a wide range of education policies and are encouraged to dig deep into the issues. Our Fellows are an invaluable part of our office and assist us on a variety of tasks, including policy work, individualized projects, event planning and staffing, constituent services, and social media usage.
"Working in the Secretary of Education's office has opened my eyes to issues I have not previously been aware of. I am glad I had the opportunity to research issues such as lack of funding for Pre-K education and special education for the office. The Governor's Fellowship has given me the honor of attending confidential meetings and numerous school board gatherings to further increase my understanding of the problems facing Virginia's education system."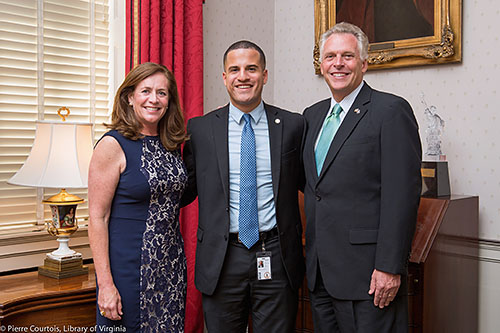 Eddie Velazquez
Class of 2015
"This summer, I had the privilege of working with the wonderful staff in the Secretary of Education office, the Honorable Anne Holton. I worked alongside the Deputy Secretary of Education of Higher Education, Dietra Trent. As a fellow I was able to attend various meetings, conferences, field trips, and bill signings featuring the Governor of Virginia. Engaging in state level projects with a focus on higher education and K-12, also conducting research on entrepreneurship and innovation grants to support the Governor's initiative of expansion in the Commonwealth. In addition, I shadowed the Mansion director with planning events, such as the Juneteenth celebration and the Oliver Hill portrait unveiling held in the Executive Mansion. This opportunity led me to discover a newly found passion for education through state government."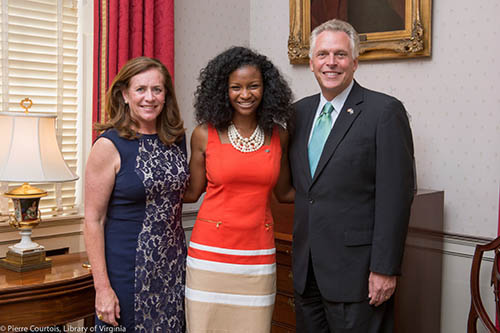 Faith Barbour
The Secretary of Health and Human Resources oversees twelve state agencies that provide Virginians with access to critical services including health and long-term care, treatment for mental illnesses and substance use disorders, public health, children's services, rehabilitation for people with physical disabilities and community-based care for individuals with intellectual disabilities. Agencies within the Secretariat account for more than 25 percent of the total state's budget and serve more than one million Virginians annually through a combination of public and private providers.
"As a Governor's Fellow in Health and Human Resources, I had the opportunity to work directly with the Deputy Secretaries to conduct research and draft briefs and proposals related to my interests around women's health, infant and maternal mortality in Virginia, and racial disparities leading to bad health outcomes. I was able to attend meetings almost every day with leaders in the physician and health community and learned about the interactions between state government and stakeholders as well as what it takes to bring about changes in policy. I also gained comprehensive knowledge of the 12 agencies under HHR including the Virginia Department of Health and DMAS. Perhaps the most exciting part of the summer was that Medicaid expansion passed so the entire office was working hard for implementation of Medicaid for over 400,000 Virginians. Overall the Fellow's program was a rewarding experience because of the extensive opportunities for learning and the life-long relationships I made."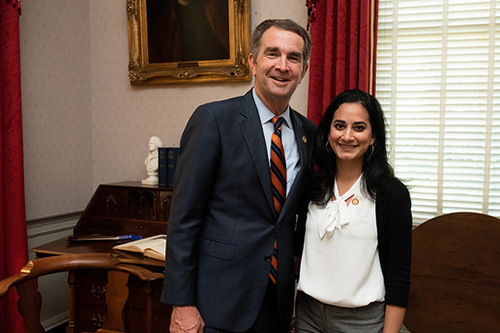 Zara Siddiqui
"As the Health and Human Resources Fellow, I worked closely with the deputy secretaries and staff in order to research salient subjects and compile briefs and spreadsheets. I prepared talking points for Secretary Hazel, and I had the opportunity to attend meetings at various agencies, ensure readiness for task force meetings, and meet various health professionals at several conferences that were open to the public. As an HHR Fellow, there is a tremendous opportunity to become involved in the multitude of issues that the agencies delve into each day, from Medicare and Medicaid, to veterans' health and housing issues, and the Children's Cabinet. In addition, the immense amount of collaboration between HHR and other secretariats allowed me to learn about the interconnectedness of the secretariat's work."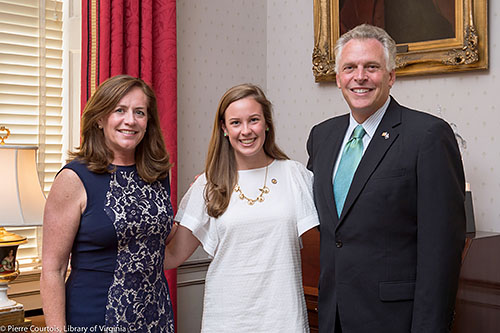 Ashley Murphy
The Lieutenant Governor serves as President of the Senate and presides over the Senate when they are in session. The Constitution of Virginia also provides that the Lieutenant Governor is first in the line of succession to Governor. In addition to these Constitutional responsibilities, the Code of Virginia provides that the Lieutenant Governor shall serve as a member of several other state boards, commissions and councils, including the Board of Trustees of the Jamestown-Yorktown Foundation and the Center for Rural Virginia; the Board of Directors of the Virginia Economic Development Partnership and the Virginia Tourism Authority; the Virginia Military Advisory Council, the Commonwealth Preparedness Council and the Council on Virginia's Future.
"The Lieutenant Governor's Office is unique among Fellow assignments for its small staff and opportunity for innovation. As the 2018 Governor's Fellow assigned to this Office, I found myself with plenty of opportunity to tackle research and policy projects in the most creative way possible. I was also able to assist with constituent service work and attend meetings on behalf of the Lieutenant Governor. The talented and passionate staff was always a quick trip across the hall to answer any question or talk about any subject. I also had the opportunity to make near-daily trips to the Patrick Henry Building to collaborate with another Fellows and Secretariats. I personally believe that the Lieutenant Governor's Office is a particularly fantastic learning experience for self-starters and advocates passionate about exploring a variety ways to serve the Commonwealth."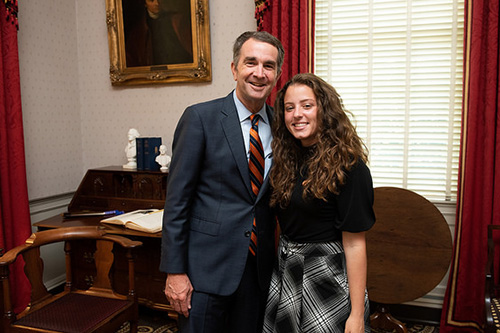 Mel Borja
"Working in the LG's office will provide an experience different from many of the Secretariats. Here, you have the opportunity to build relationships with the small staff, while working on a wider range of policy issues. The LG, a Cabinet member himself, sits on numerous boards and committees. This experience is a well-suited match because it provides exposure to various policy issues affecting Virginians (everything from mental health to early childhood education to offshore wind energy). Additionally, you will be able to work with constituents over the phone and through the mail, and collaborate with other staff, fellows, and government agencies on a regular basis."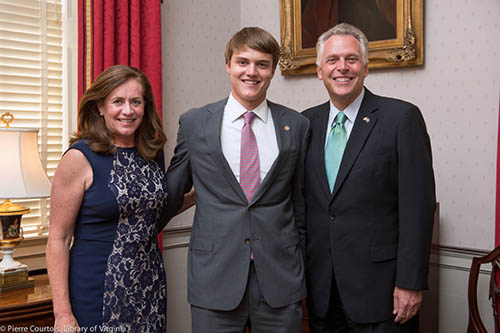 Lee McElroy
The Secretariat of Public Safety and Homeland Security is comprised of eleven public safety agencies that help enhance the quality of Virginia's citizens, visitors and businesses of the Commonwealth through public awareness, education, training, emergency response, disaster preparedness, prevention, policy development, enforcement, response, recovery and reentry.
The Secretariat also assists the Governor in the development and implementation of public safety and homeland security policies. The Secretariat supports the Governor's strategic priorities through four established pillars of interagency collaboration: All-Hazards Emergency Response, Reducing Recidivism, Preventing Gun Violence, and Smart Policing.
"In an era where criminal justice reform has become a national priority, being a Fellow in the Office of Public Safety and Homeland Security gave me a unique viewpoint on how these ideas are put into action. Throughout the two months of the Fellowship, we were able to conduct research for and assist with several task forces and executive review panels, which were charged with making Virginia a better and safer place to work and live. This experience gave us a first-hand look into the daily activities of Virginia's top public safety officials, and allowed us to gain comprehensive knowledge about the 11 agencies that are overseen by the Secretariat."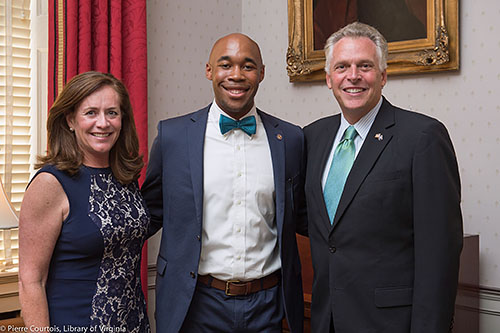 "As a Governor's Fellow I worked in the Secretariat of Public Safety & Homeland Security and worked alongside Deputy Security Victoria Cochran, due to my interest in the juvenile justice system and academic and professional background. I was able to play an active role with the Children's Cabinet initiative "Classrooms - Not Courtrooms," where they are looking to address a student's introduction to the juvenile justice system. Additionally, I researched and identified evidence-based practices to incorporate in Virginia's juvenile justice system process that aligned with Governor's McAuliffe's initiatives."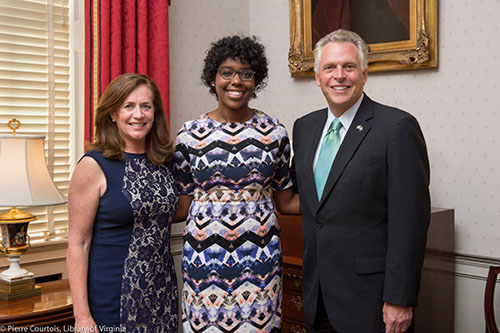 Courtney Warren
"The Governor's Fellows Program provides the opportunity to branch out while promoting personal growth as well. Working in the Office of Public Safety and Homeland Security allowed me to be actively involved in developing and implementing statewide strategies to keep our citizens and visitors safe. Because of this experience, I have seen the inner workings of state government and have hopes of returning to this level of government in a professional capacity."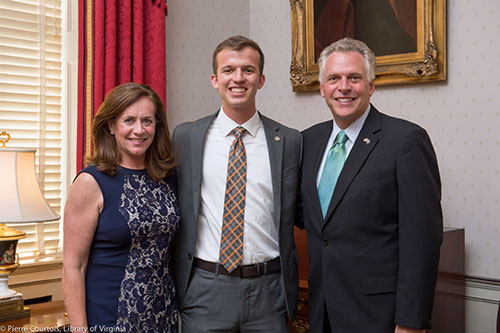 Matthew Revis
The Governor's Scheduling Office is responsible for managing and coordinating the Governor's daily schedule. Scheduling staff work with every Secretariat, the Policy and Communications offices, elected officials, and external groups to plan the Governor's calendar. Staff reviews every invitation for the Governor to attend an event or meeting, considers the Governor's priorities, and responds accordingly to generate his schedule. Staff prepares daily briefings to inform the Governor about each and every meeting or event that he attends. Fellows will be an essential component of generating the Governor's daily schedule and working with members of the administration to prepare daily briefings.
"I worked in the Office of the Governor with the Governor's scheduling team, Carrie Caumont (Director of Scheduling) and Liz Natonski (Deputy Scheduler). My day to day generally consisted of preparing the Governor's daily schedule that would be put into binders for the Governor, First Lady, and the Chief of Staff at the end of the day. I also prepared event briefings for the binder when needed, including bios, an event summary, and the Governor's movements for the event. Liz and I then prepared and delivered the binders at the end of the day. Overall, it was an incredible experience that really allowed me to see how a Governor's day-to-day would go and how demanding it can be. Governor McAuliffe loves to keep busy, meaning a full, but organized, schedule is essential to his everyday plan."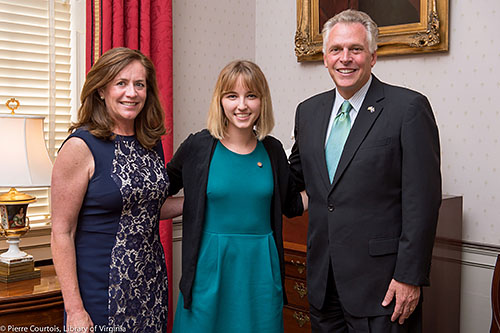 Emily Herring
Class of 2015
Pamela Northam became the First Lady of Virginia when her husband, Governor Ralph Northam, was sworn in as governor on January 13, 2018.
An educator, environmentalist and longtime advocate, Mrs. Northam has taken a leading role in Hampton Roads and Virginia to protect water quality and improve the health of the Chesapeake Bay. Most recently, the first lady has served as community outreach coordinator for Lynnhaven River NOW (LRN), a nonprofit environmental group. In this role, she oversaw advocacy and outreach programs for homeowners, congregations and businesses to help them to become more sustainable.
Prior to joining LRN, Mrs. Northam taught high school biology. Recognizing a need for STEM in elementary education, she became a national award-winning science specialist and worked to develop an inquiry-based, hands-on curriculum for students in grades K through 5. The first lady was appointed to the board of trustees of the Science Museum of Virginia, and she also is a board member of the innovative E3 School in Norfolk.
After studying at Baylor University and the University of Texas, the first lady specialized in pediatric occupational therapy, where her work included rehabilitation hospitals, teaching hospitals, and special education.
The Northam's have two adult children: Wes, a neurosurgery resident; and Aubrey, a web developer.
"Interning in the Office of the First Lady was an exceptional and honoring experience. Although I am new to politics and governing, the initiative to bridge the nutritional divide for children in Virginia was easy for me to get involved with due to my background in social work and service. Each member in the office was inviting and informative as they encouraged me to analyze data on programs and policies that address childhood hunger. I was also able to attend speaking engagements,summits and council meetings that worked to find ways to end childhood hunger her in the commonwealth. These experiences were life changing."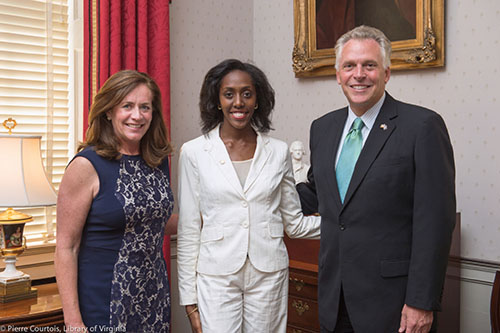 Jacqulyn Washington
Class of 2015
The Secretariat of Transportation oversees 9 different agencies; they include the Department of Motor Vehicles, Department of Transportation, and the Virginia Commercial Space Flight Authority. The Secretary of Transportation is trusted to do everything from issuing driver's licenses to monitoring the roads, the sea ports, the rails, and the airports. The Fellow assigned to the transportation secretariat is expected to report to a Deputy Secretary on a regular basis updating them on their assigned project. At the end of the program, the Fellow will present their findings to the Secretary and other interested parties.
"The Governor's Fellows Program is an unparalleled experience- rich with learning, exposure and fostering relationships. Working for The Secretary of Transportation allowed me to interact with countless state agency officials, attend executive meetings on a variety of issues and fully immerse myself in Virginia's diverse transportation network. While serving under Secretary Valentine, I was able to experience the true innovation found in The Commonwealth of Virginia's transportation network. From The Virginia Department of Transportation to The Department of Aviation, Virginia is consistently working on connectivity, innovation and serving Virginians. It was an honor being apart of the research, discussion and operations during my summer as a Governor's fellow. Additionally, it was a privileged to witness how essential transportation is to the Commonwealth and how the connectivity of our system benefits all Virginians. In one summer, I managed to gain knowledge on a rich variety of issues from autonomous vehicles to public transit. To be honest, my summer working with Secretary Valentine was priceless and has continued to shape my professional goals, as well as my personal aspirations for public servitude."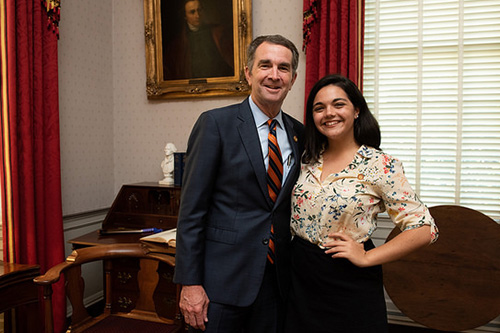 Lauren Fishbein
"The Governor's Fellows Program was certainly the most inspiring and enlightening learning experience I have ever had. As a Governor's fellow serving under Virginia's Secretary of Transportation, I was awarded the opportunity to experience just how essential and critical our transportation system is to Virginia's safety and sustainability. While serving under Secretary Layne, I was tasked with creating innovative ideas that would improve our state's rest areas and truck stops. I was also given the responsibility to find better communications tools for Virginia's Department of Transportation. One of the interesting things about working with transportation was that we were always on the go. There were many occasions during the fellowship where I was able to be on seen for many of Virginia's transportation mile stones. In one summer, I was able to experience nearly every possible mode of transportation, outside of a space shuttle, available in Virginia. To be frank, I truly had fun this summer and I am so honored to have served not only Secretary Layne and Governor McAuliffe, but the citizens of Virginia."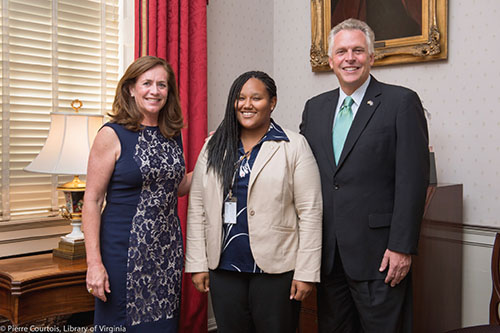 Promise Wheeler
The Secretariat of Veterans and Defense Affairs is responsible for distinguishing and elevating opportunities for Virginia's veterans and leading initiatives focused on relationship building with and in support of the Commonwealth's military communities. It oversees the Virginia Department of Veterans Services (DVS), which serves the fastest growing veteran population in the Nation. Our fellows would help with veteran policy development, coordinating with other secretariats and state agencies, and would enjoy tours of bases and attending other veteran and military events.
"Spending the summer working in Richmond was an eye-opening experience for me. The efficiency and speed with which Governor McAuliffe's administration works is astounding, and that alone made me reconsider a career at the state level. Secretary Harvey, his office, and everyone else I interacted with as a part of the administration instantly made me feel like part of the team. I was a part of important initiatives to help those who need it most while surrounded by a fantastic group of people who were all equally committed to the cause. This unparalleled environment is what makes the Governors Fellows a uniquely rewarding experience, and I would recommend it to anyone interested in policy or government."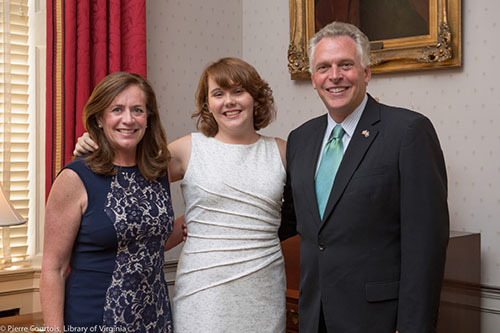 Rachael Sharp
Class of 2015
The Office of the Chief Workforce Development Advisor to the Governor is a new cabinet position in the Office of Governor Ralph Northam. Governor Northam has emphasized that workforce development is essential to capitalizing on the progress made on the New Virginia Economy by Governor McAuliffe. The Chief Workforce Development Advisor has been tasked with bringing everyone – from unions and businesses to students and parents – together to build a world-class 21st century workforce development system.
The office bridges the gap between the Secretariats of Education and Commerce and Trade to develop systems accessible to all Virginians, in which those Virginians can develop skills to support their families, grow their communities, and help develop the New Virginia Economy.
The Virginia Office of Intergovernmental Affairs (VOIA) serves as the liaison between the Commonwealth and the United States Congress; the White House; federal agencies; and other states and territories. The Intergovernmental Affairs office also monitors federal legislative issues and advocates on behalf of the Commonwealth. We work with state policy advisors to determine how federal legislation will impact state programs and priorities; and advocate for what is best for the Commonwealth and local programs. Additionally, the Virginia Office of Intergovernmental Affairs helps to identify federal grant opportunities for the Commonwealth and assist them in their efforts to get new federal grants or continue current grant opportunities.
"My fellowship in the Office of Intergovernmental Affairs was by-far the best way I could have spent my summer. I was given a chance to research federal legislation on a wide range of policy areas and work closely with the Director and Deputy Directors to better convey to the Governor's team what was happening on Capitol Hill. I also drafted memos, prepared documents for presentations, and attending multiple events that were hosted by the Governor. I was able to attend Congressional hearings, National Governors Association meetings, and Democratic Governors Association meetings. My experience with the Office of Intergovernmental Affairs team was second-to-none and I loved every second of it."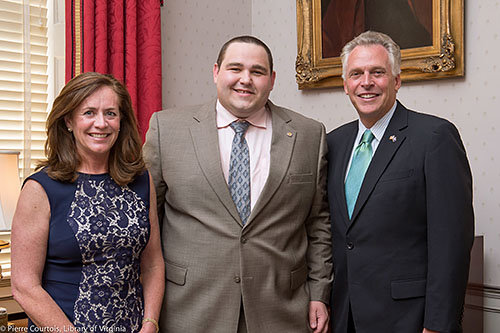 J.D. Ratliff
Class of 2015